21 October 2017 was the 20th Anniversary of
Waldemar Miszkurka's Round the World AN-2 Flight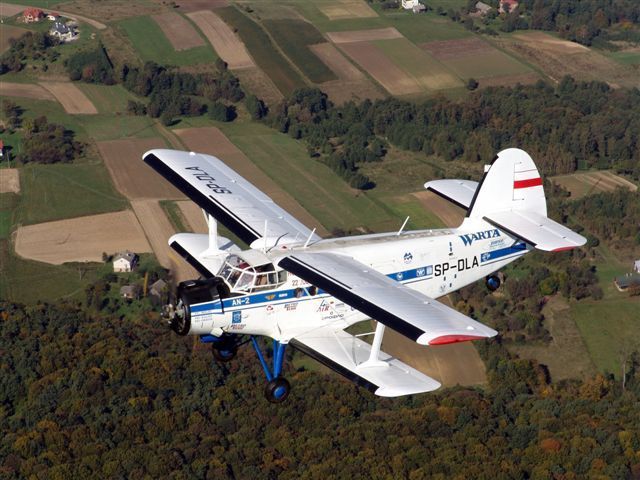 This aircraft is (serial number 1G178-08) now owned by Wieslaw Bak of MARCO Export-Import, Rzeszow, Poland
In 1997, a Polish team, consisting of Waldemar Miszkkurka (Captain), Andrzej Szymanski (Copilot) and
Bogdan Gajek (Flight Engineer) completed the first (and only, so far) AN-2 flight around the world.
The flight began on 22 July 1997 and was completed on 21 October 1997. The flight covered 36,000 km.
The crew spent 188 hours and 2 minutes airborne averaging 191 km/hr for the flight.
They landed at 31 airports in 16 countries.
The flight had some dramatic moments. The exhaust manifold failed in Iran. They were escorted by an
MI-24 gunship over Afghanistan. The oil cooler needed repair in Thailand and they had to circumnavigate
a typhoon over the China Sea. Chinese authorities refused to grant permision to overfly China forcing a
change of route. Russian military officers delayed permission to fly from Petropavlovsk to St. Paul, Alaska
(an 11 hour leg).
===============================


Route of the flight:
0. Started at Mielec, Poland 22 July 1997
1. departed Rzeszow, Poland - 22 July
2. departed Thesaloniki, Greece - 24 July
3. departed Diyarbakir, Turkey - 29 July
4. departed Tabriz, Iran - 30 July
5. departed Ghazvin, Iran - 1 Aug
6. departed Zahaden, Iran - 2 Aug
7. departed Ahmenabad, India -3 Aug
8. departed Nagpur, India - 4 Aug
9. departed Kalkuta, India -13 Aug
10. departed Phitsanulok, Thailand -15 Aug
11. departed Ubon, Thailand -19 Aug
12. departed Manila, Phillipines - 26 Aug
13. departed Koahsiung, Taiwan - 28 Aug
14. departed Osan, So. Korea - 4 Sep
15. departed Seul, So. Korea - 18 Sep
16. departed Hakodate, Japan - 22 Sep
17. departed Pietropawlowsk, Russia - 27 Sep
18. departed St. Paul, Alaska - 28 Sep
19. departed Anchorage, AK - 1 Oct
20. departed White Horse, Yukon Ter. -3 Oct
21. departed Edmonton, Canada - 5 Oct
22. departed Winiped, Candaa - 6 Oct
23. departed Hamilton, Canada - 8 Oct
24. departed Ottawa, Canada - 11 Oct
25. departed Sept Iles, Canada - 12 Oct
26. departed GooseBay, Canada - 14 Oct
27. departed Narsarsuag, Greenland -Denmark - 15 Oct
28. departed Kulusukk -16Oct
29. departed Reykjavik, Iceland -18 Oct
30. departed Stavanger, Norway -19 Oct
31. departed Rzeszow, Poland - 21 Oct
Arrived back at Mielec 21 October, 1997